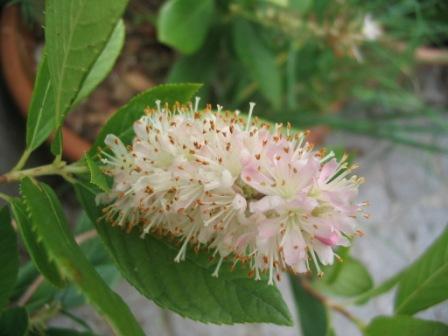 Adversity Clethra alnifolia : These plants often suffer from ferric chlorosis, which causes the yellowing of the foliage; to prevent this disease it is better to grow these plants in an acid soil, or regularly give some greening fertilizer. In the first spring days apply a copper and sulphur fungicide treatment and a pesticide anti-aphids treatment.
Irrigation Clethra alnifolia
continental : These plants need rather frequent waterings in spring and summer, always allow the soil to dry out between two waterings. We can suspend waterings during cold months.
alpine : It is advisable to give regular waterings, specially during spring and summer; before giving again water make sure the soil is dry.
mediterranean : Waterings shall be given by watering the soil deeply, but only when it is very dry, avoiding to leave plant roots in stagnating water. During the cold season we can suspend waterings.
Temperatures Clethra alnifolia
continental : We suggest to place these plants in a semishady location.
We suggest to grow this plant in a sheltered place away from frost and wind, even though it can tolerate slight frosts without any problem.
alpine : Avoid to expose this plant every day to an excessive exposure to direct sunlight; try to place it in a semishady location, especially in summer.
These plants do not tolerate excessive frosts; it is therefore suggested to grow them in a sheltered place away from the wind, for example close to the house; or cover the aerial part with a frost cloth in winter.
mediterranean : The Clethra alnifolia prefers semishady locations, not exposed to direct sunlight for too long periods.
They do not suffer from cold, and tolerate also temperatures close to -5°C; they are normally grown in the garden without any problem, or they are placed in a sheltered location away from the wind.
Feed Clethra alnifolia : We suggest to fertilize the shrubs using long lasting fertilizers; usually it is supplied a fertilizing at the end of winter and a second one at the end of summer; in both cases it is used an organic fertilizer or a slow-release fertilizer.