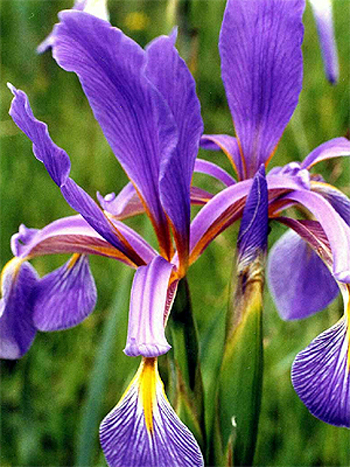 Treatments Iris spuria : Flowering plants shall be treated only away from bloom, to avoid to injure pollinating insects; normally it is advisable to use specific products and only when the parasite is present on the plant.
Watering Iris spuria
continental : Water the Iris spuria very regularly, trying to maintain the soil always a little humid, but not soaked or with stagnating water. Remember to increase waterings during the most luxuriant vegetative period, from March until October, and to decrease watering when the cold period starts.
alpine : We remind to water the Iris spuria very often, specially in summer; the soil shall be maintained humid constantly, but not soaked. During the cold season we can decrease waterings, but avoid the soil to dry out completely for too long periods.
mediterranean : Water the Iris spuria very regularly, allowing the substrate to be constantly humid; increase waterings specially in summer, and decrease them in winter. Remember that these plants suffer from drought, specially in case of long duration drought.
Exposure Iris spuria
continental : This plant prefers to be exposed to direct sunlight all year long.
Grow the Iris spuria outside all year long; it is a rustic plant.
alpine : Grow the Iris spuria where it can be exposed every day to direct sunlight as long as possible.
This is a very rustic plant, that is grown in the garden all year long without any problem.
mediterranean : Grow the Iris spuria in a very bright location, with a good exposure to direct sunlight.
These plants are very rustic and survive in the garden also in case of long intense frosts.
Fertilization Iris spuria : Bulbous plants need a specific fertilizer, to be used during the foliage growing period; the supply of fertilizer will improve the storage and nutritional substances in the bulb, which will be used for the next year bloom.